So one of my resolutions was to post pictures of myself. So here I am on a cruise ship hanging over the balcony of the lowest furthest back balcony room you can get on the Sensation (portside I think)
And here I am right before getting my passport stamped.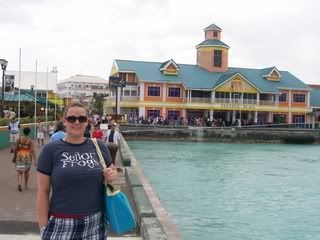 This may seem like a minimal thing but last year when I went to the Bahamas with Kathryn I left my passport on the boat (as I was instructed to by my husband's aunt the uber-cruiser). Kathryn however took her passport with her and was able to get it stamped by the customs guy at 11pm 30 minutes before the ship left the port. Getting a passport stamp in Nassau is actually an interesting event as it is not required for entry and is basically hidden in the LAST room on the right after a loooooong empty hallway in a building over my right shoulder in this picture that you can't even see. Craig thought I was nuts dragging him to this place but he got his stamped too.
This weekend when I see Kathryn in NYC she promised to take pictures of me to share here. So of course I'm shopping tomorrow to get clothes that look fantasmic. Can't go to NYC with old clothes ya know.