I'm not really sure if we are morphing into a Wine Club with Books but initially we had intended to have a book club that would allow us to read books we wouldn't ordinarily read on our own. So far we've read Wicked (and hated it) and The Magician's Assistant (and didn't hate it) and next month we read A Long Way Gone (and hope to at least like it)
The place:
Bin 555 in San Antonio, Texas a Jason Dady restaurant with tapas and wine selections. Everything we tried was fantastic. Not a place for a budget but an excellent beautiful place for a book club!
The people:
Not everyone because my cousin was recovering from wisdom teeth removal, and others had alternate engagements.
The wines: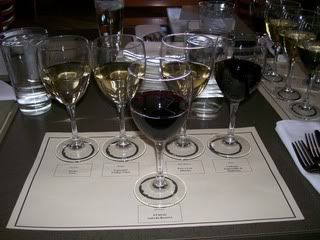 A fantastic mix to try a variety of wines. I'm loving the flights.
The food:
We were so busy eating,I forgot to take pictures. Cindy reminded me before I licked the cheese plate clean, to get a pic of the food.
The socks:
Lessons learned at today's book club....avoid men nicknamed Horse, we all enjoy plot over character development, we have no shame in sharing personal information with waiters.
Oh and Stacy likes to look up freakish body parts on her phone.