When I grow up
I want to be Janet
. When I travel I am lucky to find myself a souvenir. I am fantastic at finding something I am ASKED for (like Kathryn's mosaic pin in Rome) but if someone tells me to just grab something that reminds me of them they would be lucky to get a plastic version of the Eiffel tower that I grabbed on a layover in France. People i'm on vacation, don't make me THINK.
But Janet? Janet can browse through shops throughout the world and somehow come up with the PERFECT gift in a foreign country without even trying. This year she and her family spent a couple weeks in Italy and France and not only did she send me a postcard from Italy, I receive this days after her return. I'm lucky to mail my BILLS when I return!
My 7 year old took this picture and couldn't for the life of him get it to focus. Regardless you can see the popping colors and size of this "flag" scarf.

Il Palio Di Siena
is an annual race through the gorgeous streets of Sienna. Jockeys race for neighborhoods in the city bareback on horses. The one she sent me is from
Terziere di Città.
ONDA (Wave) a swimming dolphin wearing a crown. White and blue.
Of course I can't look at a scarf without picturing myself wrapped like Jackie O. Or as Janet says, the Grace Kelly look.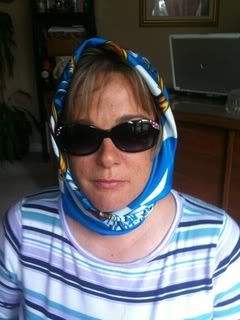 I only hope the gift I come up with for her in Germany will be have as perfect!