I adore visiting my friend Janet for a variety of reasons.
First her home is beautiful with a fantastic view!
Her husband brought up a FANTASTIC wine from her cellar and she bought me roses for my race: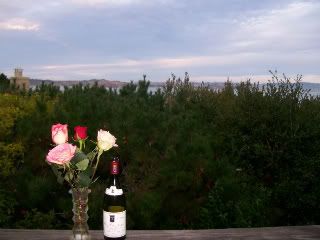 down in my room there was a sherry waiting for me with a basket of toiletries that I might need:
This is what she got from me when she visited here:
Heh the good news is that I have learned from her!!! I did get a reading lamp for the guest bedside for guests to read by :)
So here are some things I learned from Janet to make you a fantastic hostess:
1. Provide a small basket of toiletries in case your guest forgets something.
Janet keeps all the small sample sizes she receives from her travels in a basket for her guests to use. It's neat to have a variety to choose from and also a way to find out about other locations your hostess has visited. Maybe you can ask them about the places and get some travel tips!
2. Provide extra towels
My friend Kathryn is also an excellent hostess and told me that some people like separate towels for their hair and body WHO KNEW! so she provides several as well.
3. Provide some medicines in case the traveler isn't feeling well.
You don't have to stock a pharmacy, but do you really want to ask your hostess for pepto-bismal? Isn't it nice to just provide it in case they need it? Headache medicine, antacids, stomache meds, are just a few examples.
4. Provide a variety of reading materials.
I of course travel with a small library, but it is polite to provide some reading material in case the guest forgets, runs out, or just would like something new. Also provide a small reading lamp by the bedside so they can read at night before they fall asleep.
5. Provide a variety of covers.
Make sure that you provide an assortment of covers in varying weights and textures. What you love may be too heavy or scratchy for another. You may think your house is just right but your guest may be hot or cold. Provide covers for a variety of tastes.
With just these few things you will be an accomplished hostess and your guests will love you. Of course you may have to turn away a few friends because EVERYONE wants to visit you!!!