This is our balloon, the Voyager.
Our balloon was already inflated by the time we arrived (from a 45 mintues van ride AWAY from Napa Valley) so I wanted to get a picture of another balloon being inflated.
As you can see the propane tanks are at your knee level, the captain is in the middle and the FIRE is right above your head! There is no zoom on this picture:
Once the balloon is inflated to the desired amount the chains holding it down are released. One of the chains is attached to a truck winch. When that is released you immediately rise and shift to the direction of the wind.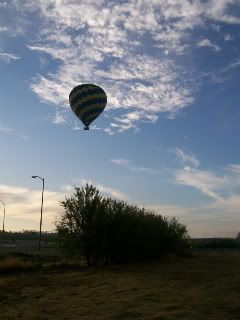 You travel according to wind and at different heights winds flow at different sppeds and directions. So to shift say to the east you would have to rise and fall in altitude. The balloons communicate via radios (which you can hear in the video below) and tell each other what height, direction and speed they find.
This is the kind of farming I would love to live in! A Pool?????? This is NOT South Texas farming let me tell you. I had farmers in my family and not one had an inground pool. Neither do my inlaws. They did however have a 2 foot deep plastic blow up pool a few years ago that I think my kids destroyed what with the jumping in....of course now that I think about it, the in laws may have not gotten a pool because my kdis are dare devils and that would scare the crap out of MIL. Everything scares the crap out of MIL.
You get pretty freaking high! These are walnut and almond orchards. California, the land of fruits and nuts! But then they take you down so low you can touch the trees.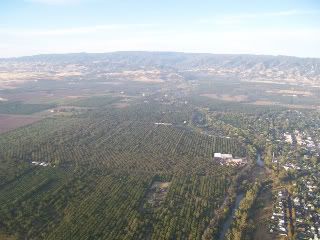 Finally they take you back to Napa General Store (another 45 minutes van ride) where you eat all you want at a breakfast buffet with free champagne and mimosas.
Notice the lack of landing pictures....more on that later.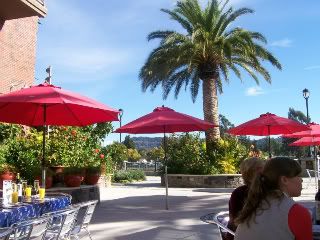 This is a short video I uploaded so you can get a feel for hot air ballooning travel. Overall it is very quiet. I mean REALLY quiet. Until they heat up the air with propane flames A FEW FEET ABOVE your hair...so note please DO NOT wear a lot of heairspray and a beehive LOL!