Read the article published by Los Angeles Times.
http://www.latimes.com/news/nation-and-world/la-na-harlequin-books29-2009nov29,0,5491411.story
"And the heroines it depicted lived out female professional -- not necessarily sexual -- fantasies long before they became reality."
This was posted on a message board I frequent so Tracy and I went to see the display at the Paris Hotel in Las Vegas. What was really cool is that last year I volunteered to be my daughter's cheer coach (I know don't fall out of your chairs) and the head coach is a romance author who writes under the name of
Kimberly Raye
.
The display was very interesting really. About the history of Harlequin (it was originally a male/female publisher of mystery type books until the owners wife said hey I think Romance is the way to go!!!)
Here is the hotel:
The display (which was a bit hidden and hard to find :)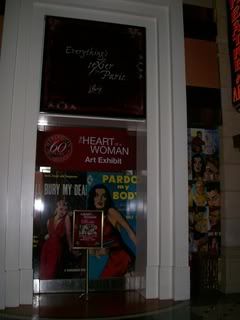 Kim's book on display:
How glad I am the covers have gome from this:
to this!!!
Next up tomorrow....RODEO! Long Live Cowboys!!!