Just found a super cool site called
See Your Hotel. I really to know ahead of time exactly what my hotel will look like on the outside so I'm not trotting my luggage up and down the street for hours trying to ask for directions in a foreign language arguing with locals on how to pronounce "Vert." It happens.
The site was not completely intuitive so let me give you some pointers. At the top of the site near the title type in your city. I typed in Prague, Czech Republic. You can navigate the map or zoom in if you know the exact location, but if you are like me and don't know where you are staying then type in the name of your hotel in the GOOGLE box at the bottom left of the map. I typed in Park Inn Hotel. This will book mark it for you. Once it is bookmarked, zoom in until the SEE YOUR HOTEL pin shows up in orange.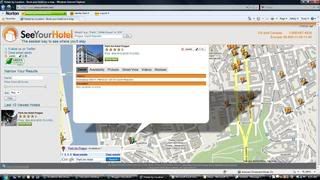 The pop up shows you tabs for hotel detail, price, photos, reviews and for some cities a Street View so you know EXACTLY what you are looking for!
How cool is that? Now strangely the street view was not available in Berlin, but the photos and reviews are all located in one great site. Check it out!