Every time we go to Vegas we always talk about travelling outside the city to view the beauty and magnificence that is the desert surrounding it. At the very least visiting Hoover Dam. In April friends went to ride dune buggies but we didn't want to spend the $500 on that. Instead we dumped it at the craps table and maybe also got a massage. Honestly with the pool and the heat and the around the world drinking Tracie and I did that trip is a wee bit hazy.
ANYWAY. When Craig's uncle DROVE to Vegas this last visit to meet us there it afforded a perfect opportunity to take the very short trip to the dam. It's like 30 minutes away! Plus it kept us away from the tables which were bleeding us DRY! The Hoover Dam is now bypassed by the way with this bridge:
and finding the exit was a little more difficult than would be thought with three college-educated people in the car. It's not like the signs were in a foreign language. The bridge can be walked across but we were in a time crunch so we parked (for $8) and walked to the dam to get a view of the bridge we had just crossed (which is a marvel in and of itself) and then lean over the very short wall that protects you from certain death to take a picture of the full dam.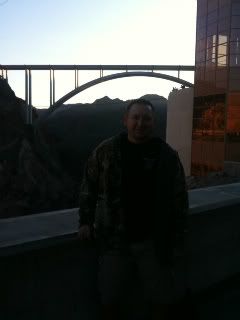 Tours are very expensive and we didn't have the time and we had already seen the inner workings with my dad but I would highly recommend them to others!