Once upon a time, a man travels to an island. Little did he know there was another male on the island waiting for him. Apparently, the Florida Keys have lots of roosters roaming free. Like Lots.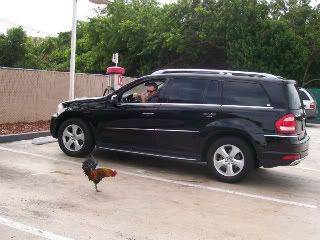 They are friendly buggers. Having no problem walking right up to you. I am slightly afraid of chickens when they are too aggressive because of a horrid goose incident when I was a child, so I took this picture then ran back to the car.
These little buggers would pop up in the strangest places: parking lot, beaches, streets. And I have to admit I was a little apprenhensive that the restaurant my in-laws chose, used local animals for their food :) Most everyone ordered seafood, because in the Florida Keys who would order chicken???? Well, that would be me. And my kids. I did have a Mojito, too.