Last summer I worked with middle school students teaching water science and environmental engineering at a university's summer camp series. This sounds a lot more impressive than it really was. But whatever I did, somehow it made an impression because I was contacted by the powers that be letting me know they wanted to honor me with an award for my time spent with the students. Wow. That was completely unexpected.
I mean I basically felt like a glorified baby sitter, but if I get a free meal out of it I'm game. Plus I figured if this was a way to get the word out for the ITEC camps then I was all for that. I'm giving that way.
But then I get an email from the powers that be telling me that this was actually a mentoring luncheon and did I have any OTHER people that I mentor they could mention. HMMMMM. I wasn't sure what others there are as I didn't realize I was mentoring to start with? I had to go look mentor up in the dictionary because I don't remember the life guidance in the teaching of the water cycle and sewage treatment plants. But then I might have blanked out a bit of those weeks because the kids? They were wild.
So I email them back and explain the volunteer work I was doing with a local middle school helping with science fair, thinking they would tell me i didn't fit the criteria. Nope. This morphed into me volunteering and TRAINING mentors. So what happens when things spiral out of control? You find yourself at a table eating chicken parmesan, listening to the MAYOR tell you what a great job you are doing.
(blurry picture from 3 year old iPhone)
although the real shame didn't appear until I had to stand in front of everyone (luckily in a huge group) to receive this certificate and ribbon (i'm not just a fake mentor, I'm a super star one at that!)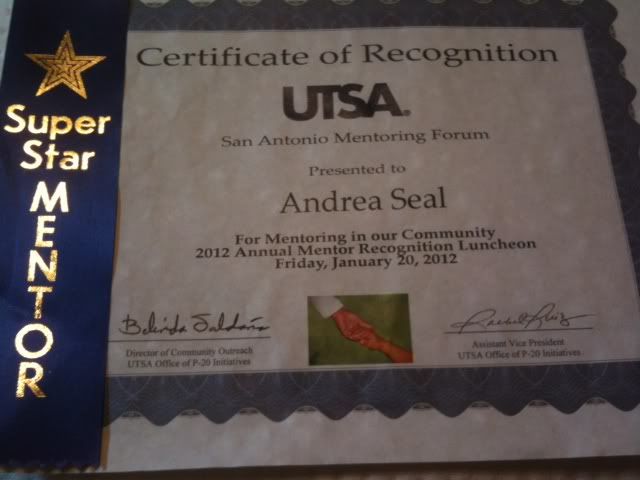 So anyway, the powers that be didn't seem too upset when I arrived and told them I wasn't really sure about what this was about and they said not to worry. This was the only way they could get the university to thank me so roll with it. So I did. But I'm still waiting to cross it off my bucket list. Certificate or not!