I went to Paris with a plan. I wanted to show my aunt as much of Paris as I could. I had already been to Paris twice. I like it, but I don't love it. It's beautiful and legendary and all, but when I think of the whole world out there, this is one of the places I don't think of as required. But everyone wants to see this:
My aunt had made the comment during the day that she didn't understand what was so romantic about Paris. I had taken her to eat and the Louvre and to eat and to see the Arc de Triomphe and to eat. I realized that I took her to see MY Paris. MY Paris isn't romantic because *I* am not romantic. I don't like chocolate much, flowers wilt and die and frankly I can open my own door. But my aunt wanted to take her husband (who is romantic) to Paris next year and I realized I was doing her a grave injustice by showing her the foodie side only. So I took her back and showed her this:
And my personal favorite: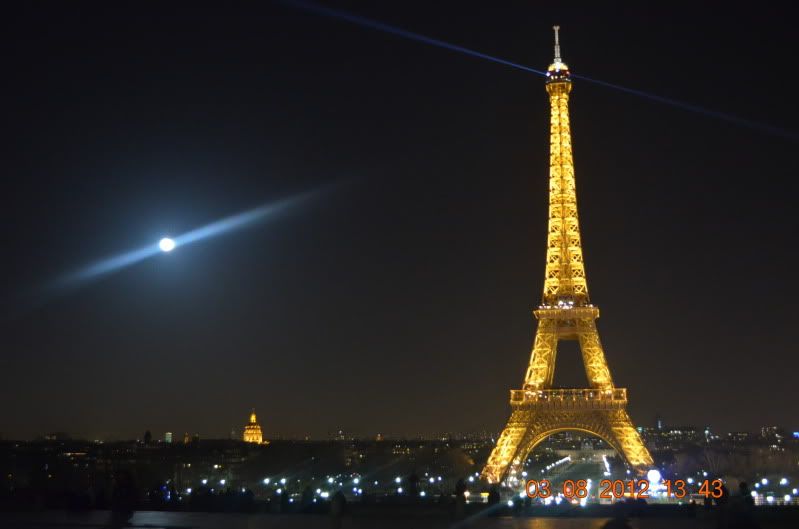 She fell in love as most people do. This is by far one of the most beautiful sights in the world. I think I read somewhere that this is the most recognizable landmark in the world. If you find yourself in Paris be sure to take the Metro to the Trocadero. Once there it's easy to find the view. However, the metro itself is like casting dice, switching eight times, jumping through fire and then spinning three times. Don't do this your first day. Get to know the Metro first before you plan your excursion here. But as you can see it's completely worth the ticket!