Not so much really.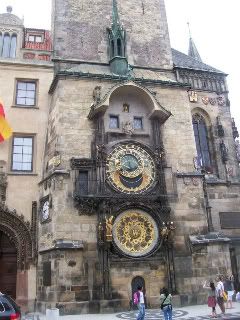 The
Prague Astronomical Clock
is a spectacle collecting dozens of tourists in one spot looking up to watch the little show. It's a pickpocket's dream so my purse was held in a Klingon Death Grip during the whole show. I personally think there are things you just have to lose yourself to as a tourist.
This is one. I mean it's the oldest working astronomical clock, first installed in 1410. To me it's a miracle of science and human achievement. Plus it's really close to cheap beer!