So I mentioned before the awesome trip Kathryn and I had to Monticello in the rain. As it gets cold, I tend to think about my first trip to NYC two years ago. It was cold and snowy and I learned that the iphone needs warm finger to work so I spent lots of time blowing on my fingers to warm them up! I was determined to see the top of the Empire State building though and every time we tried to get a little closer to the top the people who worked there would try to turn us away. I think they just wanted a break in their day though.
This method must have worked had I not been so sincerely adamant about reaching the top of the tower. Apparently in my adamant state, I neglected to notice that my friend, Marci was not terribly thrilled with heights. But after I came out of my own little world and kept saying that Jesus would not let me travel all the way to NYC without seeing the view from the top she stopped protesting. Probably because she was now thinking she was climbing up a super tall building with a crazy person.
And when we first got out it appeared we really were the only people who thought there would be a view. It did however afford this once in a lifetime shot! (See Marci's shoulder the only other person up there in the bottom left!)
Then the clouds parted and we were able to see the whole city. All the way down to Macy's and Rockefeller Center. We could just make out the ice skaters. The pictures were too far away to do the view justice but this one of Macy's is nice.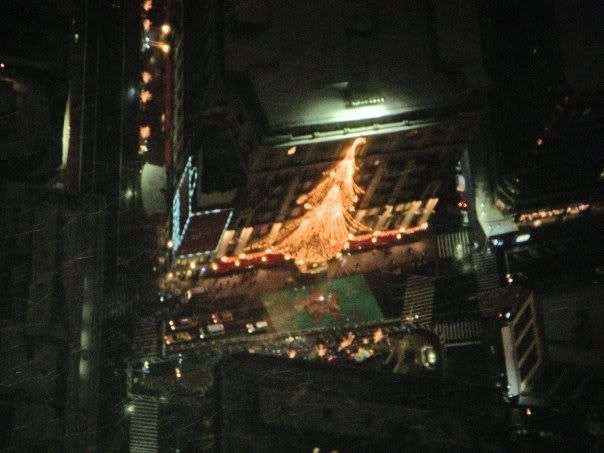 And I learned yet again. Don't Wait. Make Time. Because when everyone else decides it's time to quit those offer the best pictures and experiences!